Nails
Fall Nail Color Trends For 2022
While the prospect of cold weather and cloudy skies has me cringing, the new polish trends poking their way onto runways and beauty lines for the fall season have me giddy for the months ahead.  Scarves and bags are great, but these lust-worthy lacquers are sure to make your nails your favorite accessory this fall.  Colors reminiscent of black magic, forbidden romance, deep neutrals, iconic artwork, and textured prints are all the buzz. So whether you're preparing for tailgating, homecoming, pumpkin picking, or just another day at the office, these haute polish trends will guarantee that your style is still steamy hot- even if the weather no longer is.
Dark and Mysterious Nail Designs
This season's trend takes feminine colors, like purple and red, and spins them into something alluringly dark.  Relying on deeper, darker hues, metallic undertones, and chunky sparkle, these fall shades are sultry and feminine, laced with all the intrigue of something forbidden. To pull off this look, browse for darker-than-usual berry shades and edgy metallics.  In order to keep nails from looking too sinister, keep them manicured to a shorter length, with square tips and rounded off corners.
Striking Neutrals Nail Designs
Not huge on color, but want to it up a little more than everyday taupe or nude?  This season is bringing back neutrals, but with a richer, cozier feel.  Great for pairing with a comfy fall sweater or chic ballet flats, these hues' trendy shades draw just the right amount of attention to your nails.  To pull off the look, search for deep shades of traditional neutral colors, and shimmery shades of cocoa brown and concrete gray.  Prevent your polish from looking too summery by keeping nudes at least a shade darker than your skin, and shimmer to only stronger colors.
Ombre Nail Designs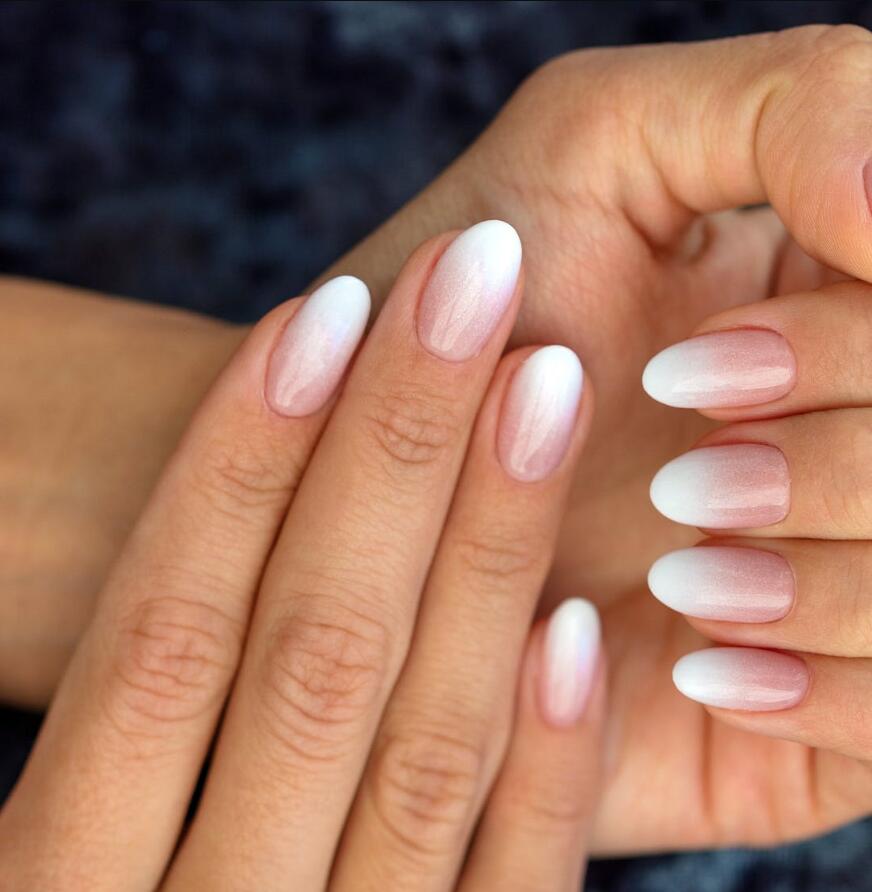 This season's ombre trend is leaving no beauty territory untouched.  Hair, lips, eyes… and nails!  Pick up your favorite polish (we think it looks best with conspicuous colors like midnight blue, jade green, or one of fall's new bold berry hues), look for a few polishes similar, but a few shades lighter, and blend away!  Whether you create your color transition from the bed of the nail to the tip, or from the thumb to the pinky nail, ombre is all the rage, and is sure to make any nails look avant garde and uber-glam.
Want to try the ombre look out without hitting the salon?  Follow the Nail Snaps Department's simple photo tutorial!
Artist's Canvas Nail Designs
From Van Gough's Starry Night to Andy Warhol's colorful pop art creations, this season's nails are turning to iconic artists near and far for inspiration.  This look- incorporating the brightest hues, the boldest patterns, the most sparkling metallics and the most textured prints (whoever said leather and snake skin don't belong on nails?)- is for the bold and the brave. Here are a few of our favorite creative masterpieces:
As leaves begin to fall and the thermometer plummets, don't let your nail style take the plunge with them!  Follow our  fall trend tips, hit up Pinterest for some lust-worthy borrowed musings, and get those perfectly polished nails that will leave your hands more vivid than the fall foliage.
And as always, don't forget to send us pictures of your craveable cold weather colors!